Electoral
Find leaders. Scale your organizing.
Win.
Put your supporters to work
Use volunteer canvasses, phone banks, and house parties scale your distributed field program beyond paid staff.
Organize with distributed events
Manage hundreds of events. Track recruitment and coaching of hosts. Ensure that volunteers have a great experience.
Create templates for days of action or by event type.
Empower event hosts to manage their events and message attendees.
Admin interfaces for organizers to moderate content, track events, and measure success.
Turf support for assigning organizers by geographic region.
Build local teams
Support local networks of committed volunteers with an online hub where they can communicate laterally and sponsor events.
Works with the rest of your tools too
We integrate with your technology stack beyond your CRM.
Analytics
Google Analytics, Google Tag Manager, Segment, SQL data warehouse, and more
Put your campaign on the map
Beautiful maps tell the story of your organizing.
Combine events from EveryAction, VoteBuilder, Mobilize, and other tools on one map.
Make it easy for supporters to find opportunities to get involved near them.
Embed the map on your site or share a map with partners.
Learn More About Maps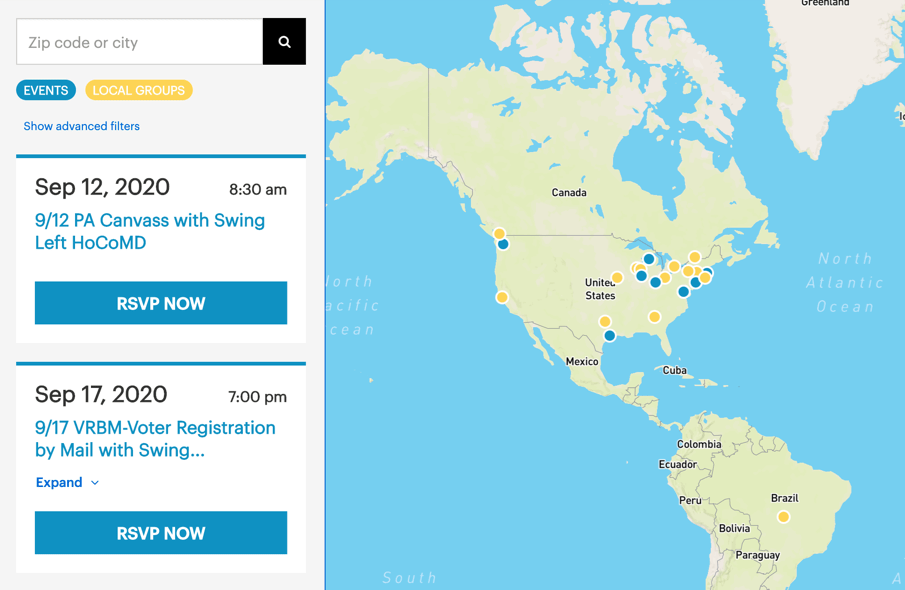 Powerful moderation and staff tools
Carefully moderate events and other content created by volunteers.
Support for complex team structures, turf assignments, and fine-grained permissions.
Work with partners and parties to recruit attendees.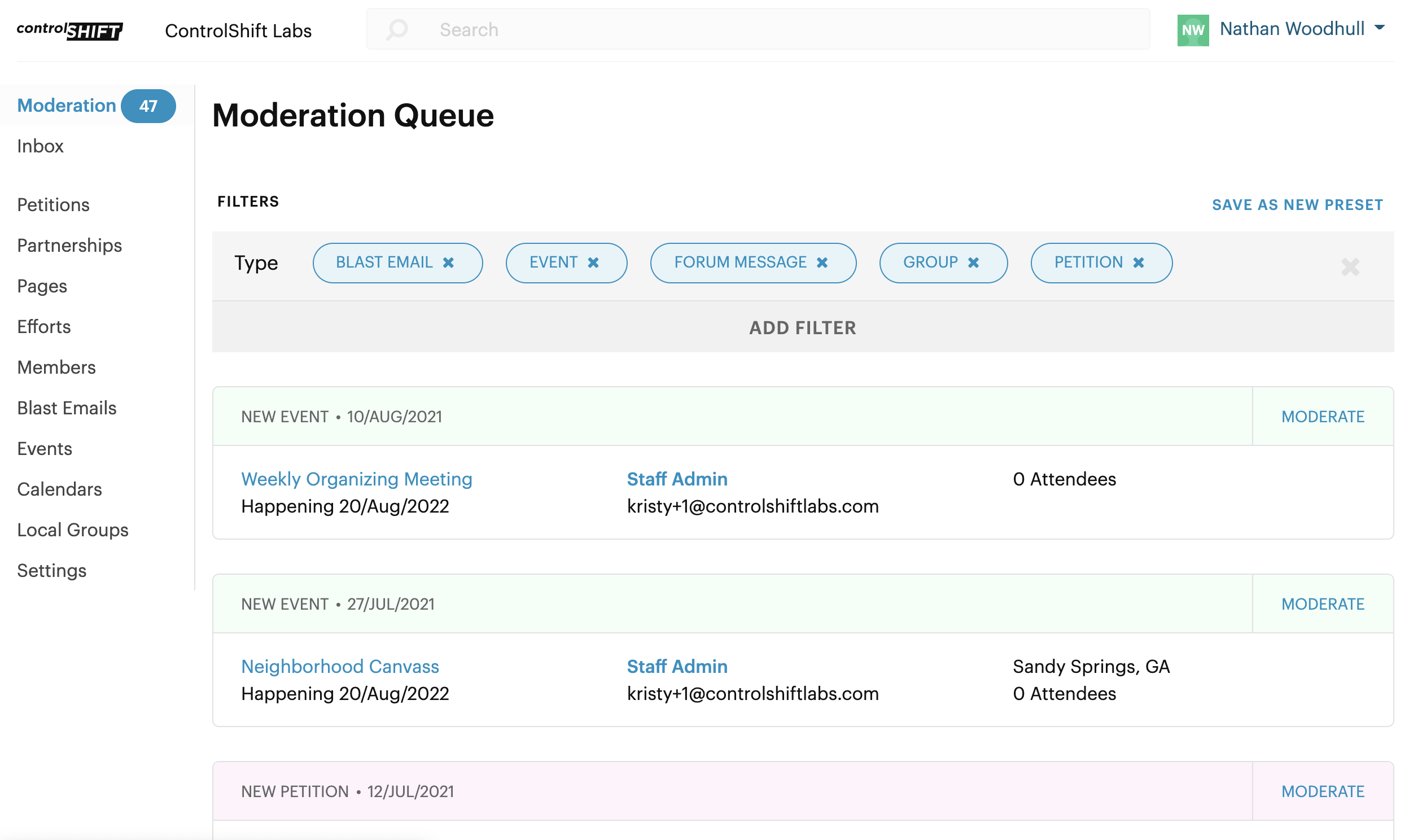 Elegant and easy-to-use
Launch your first events within minutes.
Thoroughly A/B tested and optimized for conversion.
Event shifts, custom event types, and virtual events.
Customize reminder messages and tweak platform text to match your organization's voice.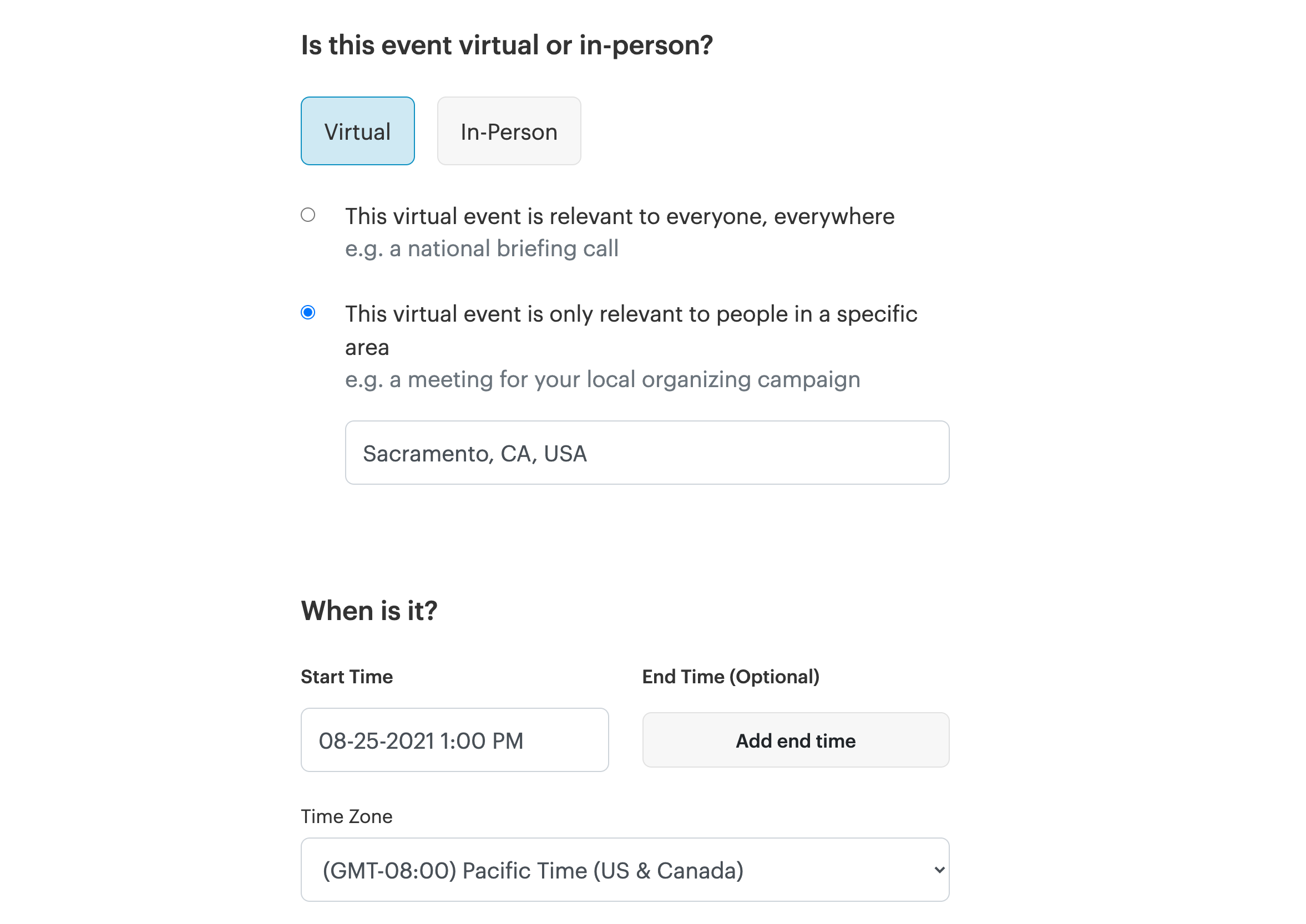 Battle-tested reliability
Organize at massive scale with infrastructure built for redundancy, security, and privacy.
Reach everyone
Support for 15 languages, including right-to-left languages like Arabic and Hebrew.
Organizing expertise baked in
We're not just a software vendor but a team of organizers with a deep commitment to progressive change.
Own your data
We'll never share or sell your supporters' information.
Customize branding
Match colors, fonts, and logos to your website. Remain in control of the supporter experience.
Allyse Heartwell
Deputy Digital Director,
350.org
Allyse Heartwell
Deputy Digital Director,
350.org
ControlShift Labs' distributed campaigning platform has been key to building the Fossil Free campaign advocating for divestment from fossil fuels. Our CSL instance let us equip activists with templates and a set of easy-to-use tools, allowing the campaign to become a real movement with life and direction of its own."
Sam Mclean
National Director,
Getup! Australia
Sam Mclean
National Director,
Getup! Australia
ControlShift isn't just a service; it is driving a fundamental and important transformation in our movement by putting organising tools directly in the hands of our members... Scaling up ControlShift is a really smart investment; from Australia to Bangalore, where the idea was born, it's a platform that is already tilting the balance of power to citizens."
Caitlin Armstrong
Digital Communications Specialist,
Amnesty Canada
Caitlin Armstrong
Digital Communications Specialist,
Amnesty Canada
Our old system made it hard for members to participate. ControlShift made it easy."