Case Study
Coworker and Allow Visible Tattoos at Starbucks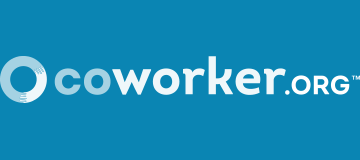 Coworker.org uses the ControlShift toolset to empower employees to fight for change in their workplaces. A month and a half ago, Kristie Williams, a barista at Starbucks, created a campaign asking Starbucks to change its dress code to allow visible tattoos. Since launching, the campaign has received more than 25,000 signatures — including 14,000 from Starbucks baristas — that represents 5 percent of the Starbucks global workforce.
In October 2014, Starbucks announced that it will allow baristas to have visible tattoos. Campaign creator Kristie Williams said, "I am jumping up and down and am so excited that we can now be more comfortable at work! I'm thrilled that Starbucks listened to feedback from employees like me and has updated its policy. I'm also so thankful to the thousands of baristas and supporters who joined my campaign and shared their stories about why this is important. I never thought my petition on Coworker.org would be signed by so many baristas around the world and it's great that when we come together, we can make our company better. I'm ecstatic and going out to buy a short sleeve shirt for work right now!"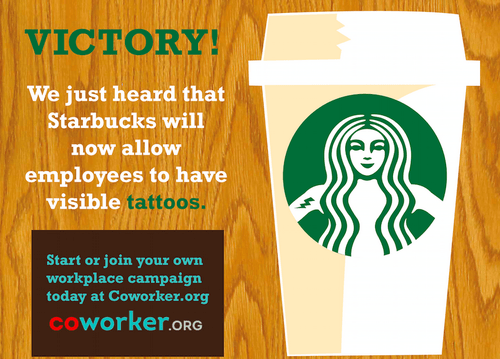 ---
Get in touch for a demo or to learn more.
Allyse Heartwell
Deputy Digital Director,
350.org
Allyse Heartwell
Deputy Digital Director,
350.org
ControlShift Labs' distributed campaigning platform has been key to building the Fossil Free campaign advocating for divestment from fossil fuels. Our CSL instance let us equip activists with templates and a set of easy-to-use tools, allowing the campaign to become a real movement with life and direction of its own."
Sam Mclean
National Director,
Getup! Australia
Sam Mclean
National Director,
Getup! Australia
ControlShift isn't just a service; it is driving a fundamental and important transformation in our movement by putting organising tools directly in the hands of our members... Scaling up ControlShift is a really smart investment; from Australia to Bangalore, where the idea was born, it's a platform that is already tilting the balance of power to citizens."
Caitlin Armstrong
Digital Communications Specialist,
Amnesty Canada
Caitlin Armstrong
Digital Communications Specialist,
Amnesty Canada
Our old system made it hard for members to participate. ControlShift made it easy."